Bamboo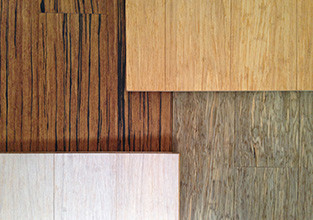 EcoFusion
EcoFusion specializes in manufacturing new modern bamboo flooring, strand woven, hardwood flooring, strandwoven bamboo, as well as dyed and stained bamboo. EcoFusion specializes in creating beautiful floors that are environmentally friendly. All products used in the strandwoven hardwood are made from 100% post-industrial recycled materials. EcoFusion takes added efforts to ensure the quality of their flooring products by eliminating the use of volatile organic compounds. Moso bamboo which is the prime ingredient in EcoFusion's bamboo flooring products is also a rapidly renewable resource.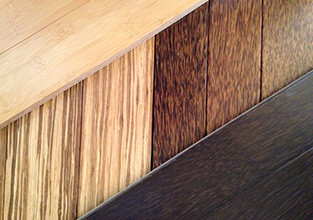 Plyboo
Smith & Fong has been manufacturing bamboo flooring since 1993 and began distributing the first bamboo flooring in the United State under the Plyboo brand. Bamboo strand flooring differs from typical bamboo flooring in that the bamboo is not cut into strips and laminated, but instead thrashed and pressed into dense logs. The logs are sliced and fabricated into flooring or plywood, creating a harder, denser material with an entirely new bamboo aesthetic. A line of flooring made from palm trees which the wood is milled are coconut palms that no longer yield fruit. Manufactured using SoyBond, formaldehyde-free resins and are available FSC® Certified 100%.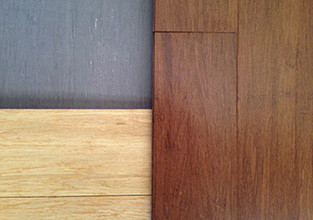 Cali Bamboo
Cali Bamboo flooring undergoes our proprietary Fossilized® manufacturing process that makes it twice the density of any other hardwood floor in the world, backed by a 50-year warranty.  Uses an ultra-low VOC with no added urea formaldehyde, the perfect union of sustainability and durability to last a lifetime.
Cork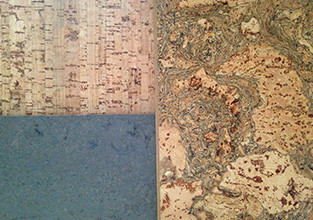 Natural Cork
Natural Cork comes in prefinished and unfinished glue down parquet tiles and prefinished floating floor planks in various styles, with or without a micro-beveled edge.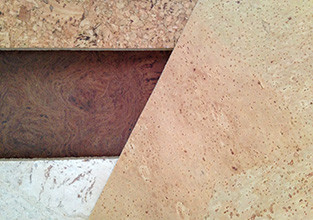 APC Cork
APC Cork comes in prefinished or unfinished commercial and residential glue down parquet tiles, and prefinished floating floor planks in natural, metallic, and youthful colors. Coordinating trims and cork underlayments are also available.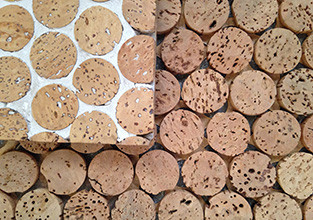 Cork Mosaic Tile
Unfinished cork mosaic tiles, premounted on a paper backing. Available in two sizes.
Natural Linoleum
Marmoleum
Marmoleum is a natural and environment friendly floor made from 97% natural raw materials along with a 43% recycled content. Natural linoleum is made from limestone, linseed oil, wood flour, pine rosin, and mineral pigments, with a jute backing. Its anti-static properties (which is why it's so easy to keep dust-free) and its bacteriostatic properties inhibit micro-organisms. Available in glue down sheets and tiles, as well as floating floor planks in close to 100 colors.
Managed Certified Wood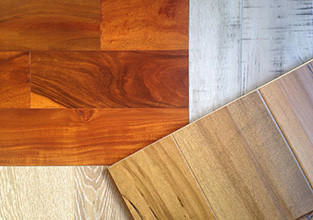 American Guild
American Guild is an engineered hardwood flooring from purposely selected character wood which contains all the original defining uniqueness such as open knotholes, pits, and worm holes; true craftsmanship hand-scraping, and other naturally occurring elements found in a character grade floor with a truly vintage look.  This collection of waru, acacias and white oak engineered hardwood floors offers an authentic palette of rugged refinement.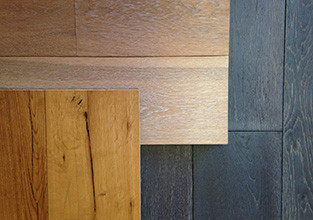 DuChateau
DuChateau are antique reproduction hard-wax oil floors finished with techniques developed in Holland. Designed to recreate the same time-worn look, character, and longevity of a true vintage hardwood floor.  What makes DuChâteau Floors so unique is the inherent variation in the wood. Variation refers to the color gradients that naturally occur in wood.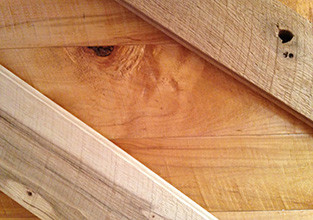 Antiquus
Antiquus are sustainably harvested solid wood flooring in Oak, Chestnut, Hickory, White Oak, Alder, Walnut, Maple, and Cherry. Milled to order in various widths, grades, and surface characters. Making new wood look old (by adding texture) brings character, beauty, and style to any floor. New wood lends itself to longer lengths making the flooring look like boards and not just small pieces of wood. Reclaimed wood with nail holes, knots and splits may take on a life to their own with a variation in color. Weathering and saw marks enhance the beauty.
Salvaged Wood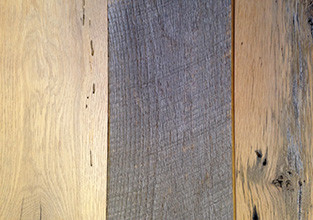 Antiquus Reclaimed
Antiquus reclaimed, solid wood flooring, milled to order, in white oak, hickory, alder, walnut, maple, cherry, chestnut, and barnboard. Only time naturally ages wood. Nail holes, knots and splits may take on a life to their own with a variation in color. Weathering and saw marks enhance the beauty.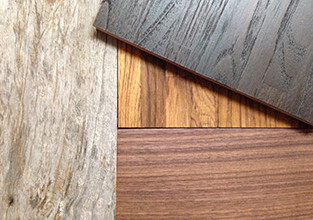 TerraMai
TerraMai delivers gorgeous reclaimed wood from around the world; teak, Asian exotics, redwood, white oak, walnut and many other species. Reclaimed solid wood and engineered flooring sourced from old buildings and structures around the world. TerraMai's unique range of reclaimed wood products span the spectrum from clean and consistent to character-rich and eclectic.
Wool Carpet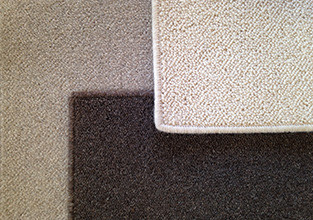 EarthWeave
EarthWeave is a 100% natural, non-toxic and biodegradable wool carpet with natural rubber adhesive binding the wool face fiber to the hemp/cotton primary backing, natural jute secondary backing, and a 100% natural wool padding. Contains contain no dyes, mothproofing, pesticides, or stain protection. Unique heathered coloring from the actual shade differences in the sheep's wool from Britain. Bio-Floor™ is 100% bio-degradable and if taken to the landfill will decompose just as trees, brush and grass clippings do. Made in the USA.