Countertops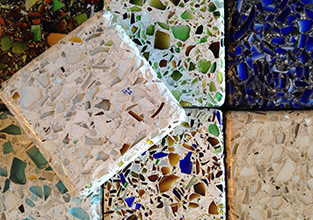 Vetrazzo
Vetrazzo is recycled glass (85%) set in Portland cement. Available in many colors; some with or without patina.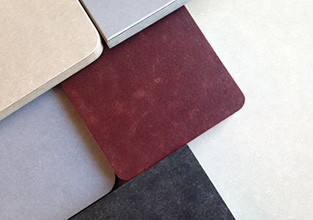 PaperStone
PaperStone is 100% post-consumer recycled cardboard or office paper in a cashew nut resin base.
Windfall Lumber
Windfall Lumber butcher block is made from salvaged wood or wood from certified managed forests. Species include Alder, Douglas Fir, Madrone, Oregon Myrtle, Big Leaf Maple, Black Oregon Walnut, and African Hardwood Blend.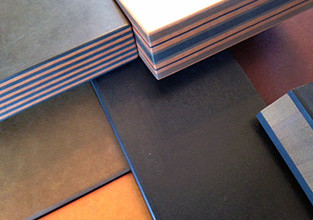 Richlite
Richlite Solid surface composite material made from paper that comes from certified managed forests or is 50%-100% recycled paper in a resin base.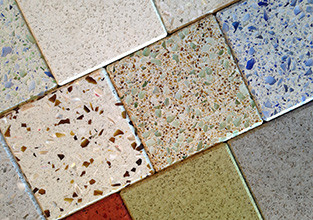 IceStone
IceStone is recycled glass (75%) set in Portland cement. Available in many colors and also with mother of pearl.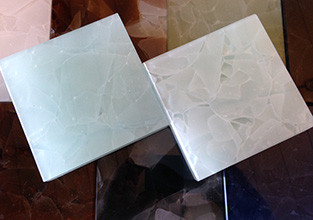 Glass2
Glass2 is a solid surface material made from 99% fused recycled glass; resin free and non-porous with unique backlighting possibilities.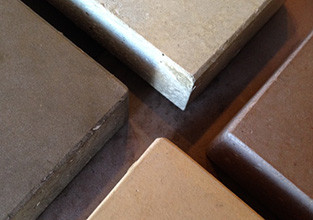 Squak Mountain Stone
Recycled mixed waste paper (100% post-consumer content, 3% of overall), low carbon cement and crushed glass (100% post-industrial content).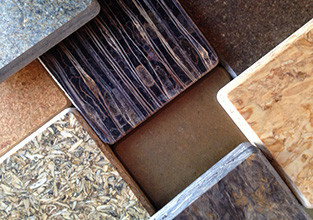 TorZo Sustainable Surfaces
TorZo Sustainable countertop surfaces made from agricultural by-products and recycled wood materials impregnated with acrylic for durability.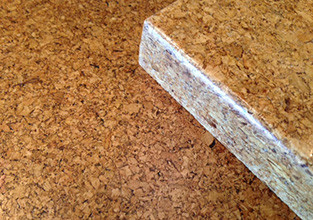 Suberra Cork
100% post-industrial recycled cork pulp compressed with a polyurethane binder. Rapidly renewable, anti-microbial, and naturally resistant to water and heat.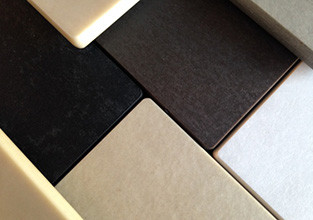 EcoTop Surfaces
EcoTop solid surface composite material is made with a 50/50 blend of certified post-consumer recycled paper & renewable bamboo fiber in a 100% water-based resin.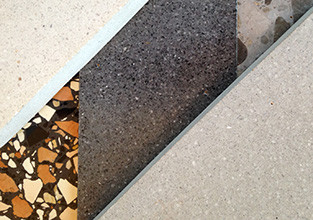 Coverings ETC
Coverings ETC makes a collection of materials featuring recycled glass, stone aggregate, cellulose fibers, and cement.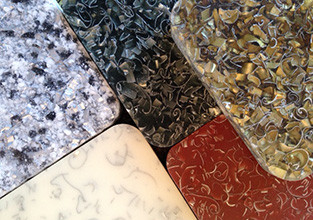 Alkemi
Alkemi is available with 60% post-industrial aluminum scrap in a polyester resin or a 96% recycled blend of post-industrial aluminum flake, solid surface scrap, and recycled acrylic.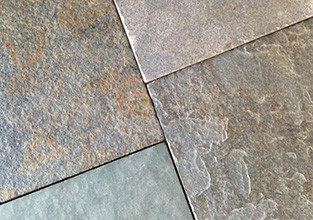 Natural Stone Slabs
Slate and Limestone
Tiles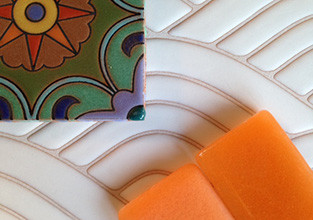 Fireclay Tile
Fireclay Tile ceramic tiles consist of over 70% recycled content from post-consumer glass & porcelain and post-industrial granite dust; hand glazing creates a natural variation from tile to tile. Available in various sizes and colors. Trims, customizable cuerda seca tiles, and decos are also available. Thin glazed brick tiles made from 30-100% recycled materials with VOC-free glazes.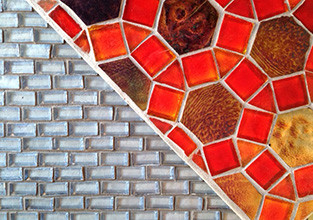 Oceanside Glass Tile
Oceanside Glass has eight glass tile product lines made with up to 85% recycled glass, including tessera, decorative liners, and natural stone blends. Available in a variety of sizes, colors, mixes, and patterns.
Bedrock Industries
Bedrock glass tiles made are from 100% recycled glass. Available in a variety of colors, shapes, and sizes.