current news
Creative transformation to a 220 square foot living space
by Natasha Winnik
May 10, 2014
Paula and Becky set about to transform a part of their his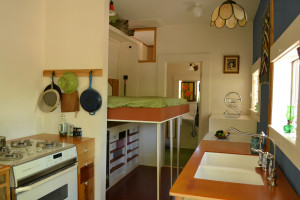 toric house that was under utilized into a second living space. The back of their house used to be a porch, then it was closed in, but the space never functioned well. They wanted the ability to travel, live inexpensively within the core of the city, and live in a community, yet have privacy. "As we age, it becomes harder to find roommates to share space with; to live together with people that have the same shared ideals." In this way they can live in a community with, two individuals and one couple all living under the same roof, with two distinct living spaces, yet a shared outdoor space.
The original plan was to create a kitchen–living–bathroom space and continue to sleep in their trailer. They always knew they wanted a full bath and a full kitchen. "When we had several 19 degree nights in February, that is when the idea of the Murphy bed was added into the mix." They worked with Google SketchUp and Tom Brightman, a permaculturist who has lived in a community for 20 years. He helped them switch to cheaper layouts and look at creative greywater solutions.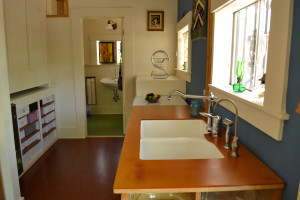 "As the construction progressed, we realized that we could afford nicer materials because we are not buying as much, due to the small, efficient space." The materials for the project came from several places:
Found—granite shelves, yellow cabinet, pallets
Craigslist—stove, kitchen sink
Originate—Cork flooring, Marmoleum flooring, Richlite countertops, Fireclay recycled glass & porcelain tile
HabiStore—cabinet fronts, sink base cabinet
Other local businesses—Ace Hardware, Benjamin's Plumbing Supply, Hood Industries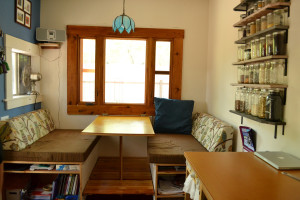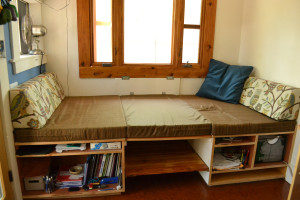 In order for two people to live in 220 square feet Paula and Becky are uber organized and everything has its place. There is a compost drawer, a potato bin, and office storage under the seating area. Dry goods and herbs are stored on salvaged granite shelves. Pots and pans hang from the walls. Their favorite parts of the project are how beautiful the space turned out, more beautiful than they had imagined. The dining–seating area–lounge area is a favorite spot. The outside space is an extension of their living space and is as magical as the inside. They are amazed by the transformation: "this was the part of the house everyone ignored, now it is the part of the house everyone wants to see." Contact us to help you plan your home's Creative Transformation!